Fire detection & extinguishant releasing panels
Both the
µ
-FEP and the NANO fire alarm/extinguishing panels have been developed and intended for the activation of modular extinguishing systems. For the concept of fire detection & extinguishing at the source, both systems are ideally suited. Both are small and compact and can therefore secure locations where a standard fire/extinguishing panel is not applicable or unsuitable. The operation is simple, straightforward, and designed in accordance with EN54-2 for fire alarm and alarm systems, EN12094-1 for fixed fire suppression systems. Both fire alarm/extinguishing systems are self-contained, versatile and with a very high-performance level intended for different applications.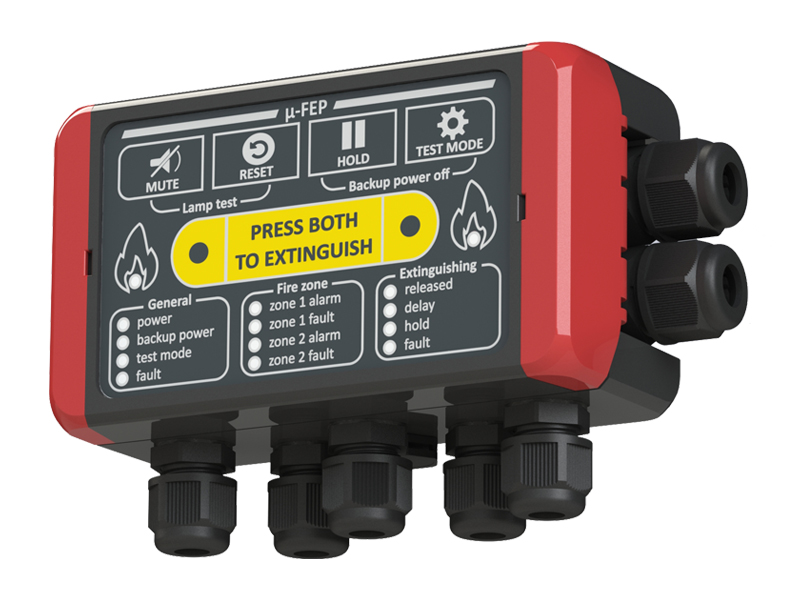 The µ-FEP is well suited for use in IT rooms, switch, distribution or process cabinets, battery storage and charging devices, clean rooms and laboratories. The µ-FEP consists of two parts. Part 1 contains the central electronics part 2 contains the cable connections. This allows the central unit to be easily mounted and wiring to be connected effortlessly. The µ-FEP is equipped with its own emergency power supply and test facility. The µ-FEP can also be used as a partial extinguishing module or part in an existing fire alarm system. The dimensions of the µ-FEP : 80 x 151 x 60 mm (h x w x d)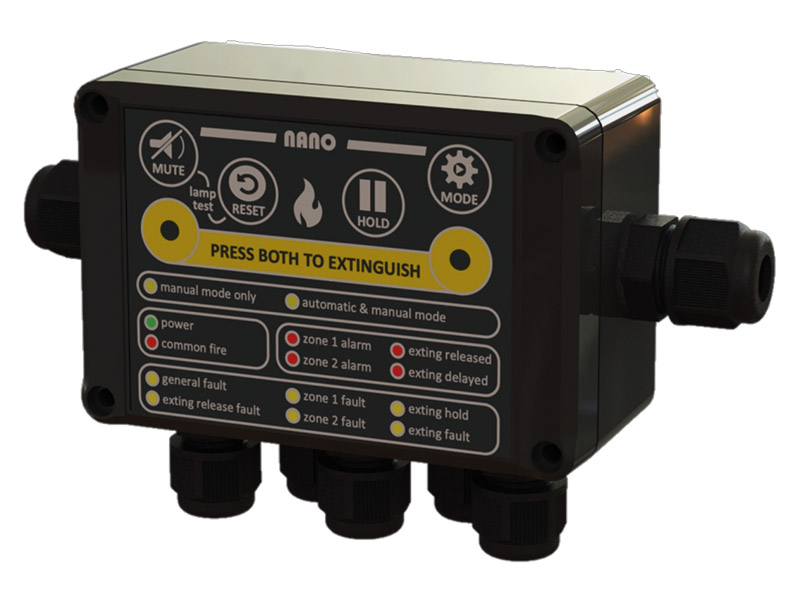 The NANO has a DNV-CG 0339-2021 type approval with certificate TAA000037H. Due to its construction, the NANO is resistant to vibrations and shocks and is therefore very suitable for the protection of engine compartments of vehicles, ships and/or CNC machines. The NANO is equipped with a double fire extinguisher activation technique, intended for the activation of electrically activated fire extinguishers or the activation of a so-called solenoid. The NANO does not have its own emergency power supply but has a double power supply connection and uses the secondary power supply of the object to be protected. Dimensions of the NANO : 80 x 120 x 58,5 mm (h x w x d).
For more information consult the documentation or contact N2KB BV